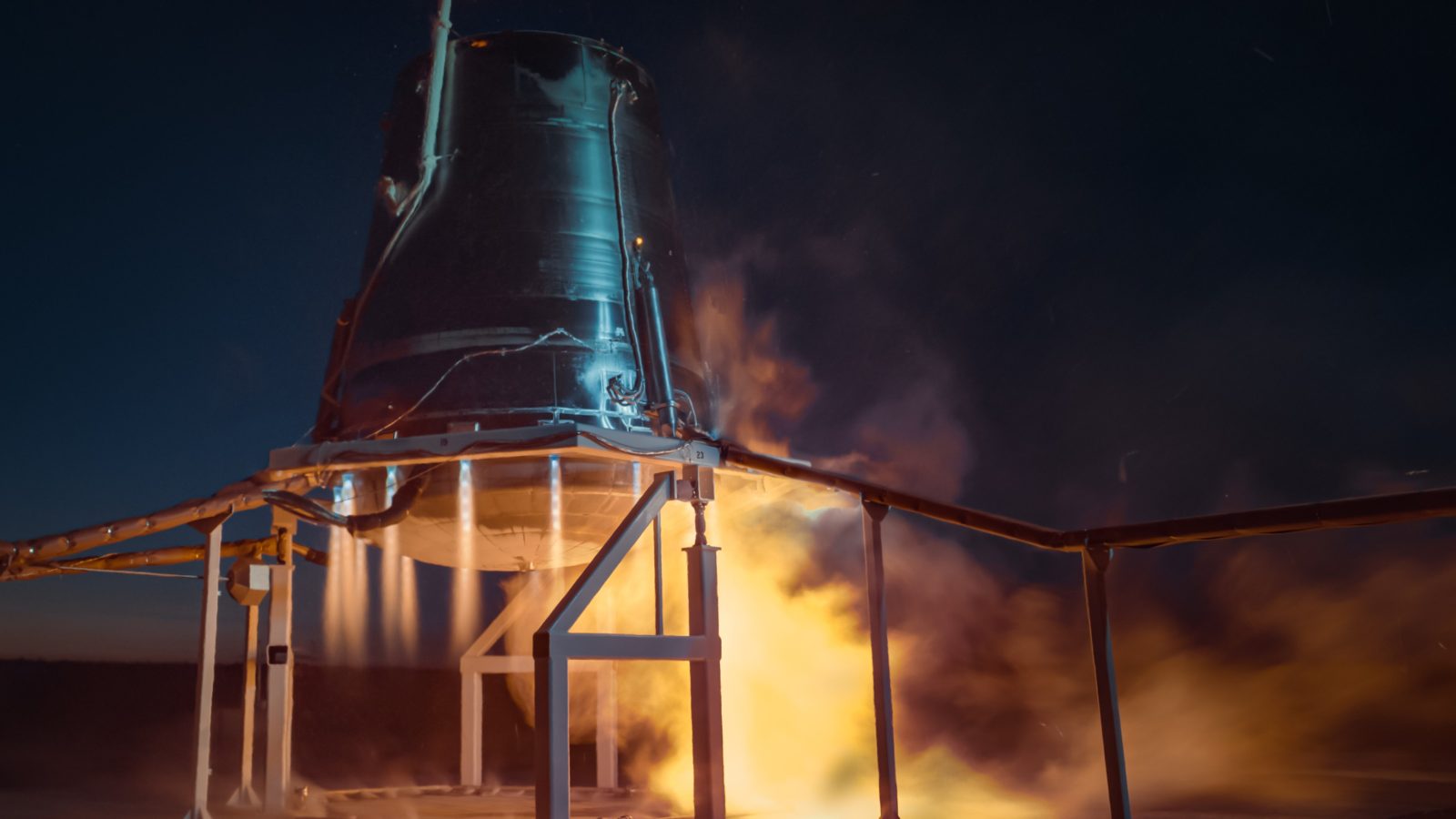 In a journey marked by innovation and determination, Kent, Washington-based Stoke Space has been making strides in the field of space technology and exploration since 2019. The company recently transported its reusable second-stage prototype, known as the Hopper Test Vehicle, to its testing facility in Moses Lake, Washington. 
This new iteration, named Hopper2, is the focus of an intensive series of system tests. These include wet dress rehearsals, countdown automation, and static stage hotfire exercises culminating in a vertical takeoff and vertical landing flight test.
While teams at the company remain optimistic about Hopper2's success, they acknowledge the possibility of encountering challenges during these demanding developmental tests. Such challenges are viewed as opportunities for the company to gather crucial data for refining the prototype's engineering and design, a hallmark of developmental tests of this nature.
Stoke Space shared a video of a static fire test it recently performed, which simulated a hop mission. This comprehensive test encompassed flight avionics, power systems, computers, guidance and navigation control, reaction control systems, tank pressurization, engines, and the heat shield.
The only aspect simulated was the position data, derived in real-time from engine data. This simulation allowed the introduction of dispersions, including a persistent roll, which showcased the robustness of the reaction control system in correcting deviations. 
The static fire test was declared a "Huge success across the board!" by CEO and founder Andy Lapsa, a veteran of Jeff Bezos' space company, Blue Origin.
Earlier in the year, Stoke Space executed a similar strategy with its Hopper1 tests. These developmental tests offered invaluable lessons in fluid systems, propellant conditioning, operational procedures, and terminal count processes.
Join our Discord Server: Join the community with forums and chatrooms about space!
The insights gained from Hopper1 paved the way for design enhancements incorporated into Hopper2.
One of Stoke Space's standout achievements is the design of its second stage, which introduces groundbreaking features. Through the Hopper development test program, the team aims to showcase the company's novel engine and thrust vector control achieved via a differential throttle.
Additionally, the company is putting its avionics, software, and ground systems to the test. The ultimate goal of these developmental tests is to directly influence the design of orbital rockets, bringing Stoke Space closer to realizing the delivery of payloads to, through, and from orbit.
Earlier this year, Stoke Space introduced "Fusion," an iterative engineering tool that has transformed its development process.
Fusion serves as a unifying platform, bringing together designers, engineers, and hardware specialists, according to the company. Those associated with the project say this tool has proved effective in space hardware development and is now accessible to teams embarking on their own unique missions, fostering collaboration and innovation.
Stoke Space's achievements have not gone unnoticed, as it has secured multiple investments from In-Q-Tel in 2023, a strategic investor with ties to the U.S. intelligence and defense community. This partnership, although previously undisclosed, is seen as a testament by many in the industry as to the trust and support the company has garnered. 
In addition to financial backing, Stoke Space and In-Q-Tel have signed a "technology development agreement," solidifying their collaboration. The company now stands among a select group of launch providers, including Rocket Lab and ABL Space Systems, that have received investments from In-Q-Tel.
Stoke Space also received approval in the Spring of 2023 from the U.S. Space Force to take over Space Launch Complex 14 at Cape Canaveral Space Force Station in Florida. This complex holds historical significance as the site where John Glenn initiated his iconic 1962 journey, becoming the first American to orbit the Earth.
Stoke Space's vision to revitalize this launch complex signifies a pivotal step forward in the Washington startup's mission to advance space exploration.
FTC: We use income earning auto affiliate links. More.